The Mazda CX-5 is one of the best selling medium SUV's in Australia and for good reason. It offers value for money, reliability and a premium look seldom matched.
If there is one SUV on the Australian roads that you would've seen driving past, it's undoubtedly the Mazda CX-5. It's the bigger brother of the CX-3 and replaces the CX-7 you might now from a decade ago. It comes in a longer version called the CX-8 and even has a bigger brother, the CX-9. Let's have a closer look at the CX-5.
The Mazda CX-5 is the perfect size for a family that wants to be able to park in the city, yet have enough space on board to go away for the weekend as well. It boasts luxurious features in its higher trim levels, yet you can put one in your garage for a small budget is you forego some of the higher end accessories. We're driving the all-new GT SP in all-wheel drive with the bigger 2.5L engine, which sits almost on top of the range with some impressive options.
The Mazda CX-5 definitely doesn't drive like a big, cumbersome SUV. Due to its medium size it handles like a normal car, but with the higher seating position, you'll get a great view of the road ahead. There are two engines available, a 2.0L 4 cylinder petrol without or a 2.5L with turbo (one putting out 140kW/252Nm, the other 170kW/420Nm) and a 2.2L diesel that produces 140kW/450Nm. The non-turbo petrol gets you 6.9L/100km, while the turbo petrol gets you 7.4L/100km; the diesel is a bit more fuel efficient at 5.4L/100km.
We drove the 2.5L turbo & can attest to the fact that this engine definitely packs a punch. We know from experience, that the diesel isn't sluggish either. Safety is guaranteed when driving the CX-5, with safety features including seven airbags, blind-spot monitoring, driver-attention alert, front and rear autonomous emergency braking, lane-keeping assist, rear cross-traffic alert, and radar-guided active cruise control with stop-and-go in the higher spec models.
The CX-5 handles itself admirably on the highway during those longer road trips, and isn't too big to drive around the city either. It's not too high for parking garages, but tall enough to give you a good view. When it comes to a perfect middle ground, the CX-5 is it.
As you might expect some a medium size SUV, there is plenty of space inside the CX-5. Both front and rear passengers don't lack leg or head space, and are treated to plush, comfortable seats that offer ample support. For storage, there are two cupholders in front and back, plus a good sized centre storage bin. Add that to the 442 litre boot and there will be plenty of space for everyone and everything!
There's also an 8.0-inch touchscreen with Apple CarPlay and Android Auto, plus a six-speaker audio system that runs DAB, with Apple CarPlay and Android Auto connectivity. The analogue gauges are a slight throwback - not outdated by any means, but definitely not as modern as some of the latest Mazda models.
This is where the story of the CX-5 gets somewhat complicated. Because first you have to choose which of the three engine variants you want. Once that decision has been made, you can either choose between front wheel drive (FWD) models or no less than six all-wheel drive (AWD) versions. And than there is the choice of colour...
Anyway, pricing starts at $34k for the Maxx with the 2.0L engine as FWD. The cheapest AWD by the same name costs about $5000 more at just under $40k. From there, it goes all the way up to the Akera which tops out at just under $53k. Our test GT SP sits just over $50k, which gets you just about all the options, except the 360 degrees camera and Nappa leather seats.
Every CX-5 comes with maximum service prices (at intervals of 12 months or 10,000km), at an annual cost over the first five years is $343. Very clear and straight forward; no surprises there, including Mazda's 5 year unlimited kilometre warranty and roadside assistance.
It's easy to understand why the Mazda CX-5 is one of the most popular medium sized SUV's on the market. With plenty of choice in engines, models and variants, there is literally a CX-5 for everyone. Ample storage, smart styling and the latest (safety) technology make it a perfect choice for any size family. Put this one on your to-test drive list!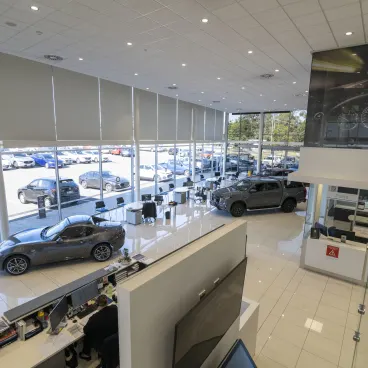 Interested in a test drive?
Our Award Winning & friendly team at Browns Plains Mazda is the place to go! Contact us today to book a time to suit!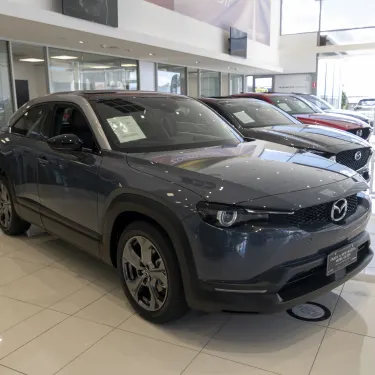 Want to experience these vehicles yourself?
Check out our stock and pick the one that fits you.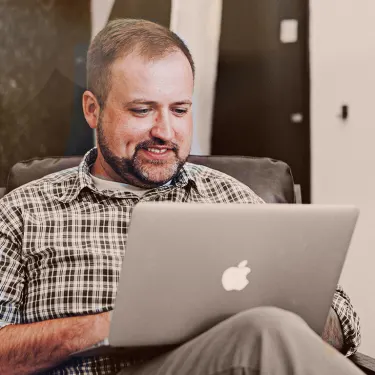 Reserve Online
Now it's even easier to reserve your next Mazda with Browns Plains Mazda, without having to leave the comfort of your own home. Reserve any Mazda for a fully refundable $200.